BIOGRAPHY
LINDE WABER, born in 1940 in Zwettl, lives as a freelance artist in Vienna and in Lower Austria and travelling around the world. Studied at the Academy of Fine Art in Vienna (master class for graphic art with Prof. Melcher), graduated.1970 Scholarship for Japan. 2007 stay in China at theVisual College of Sichuan Normal University, Chengdu, China. Several stays in Japan, Oman, Jemen and Paris, France and South Africa.
INDIVIDUAL EXHIBITIONS
1970 Gallery Heian, Kyoto
1970 Gallery Surugadai, Tokyo
1974 Exhibition in the Museum of Applied Art, Vienna(Säulenhof)
1985 Albertina, Vienna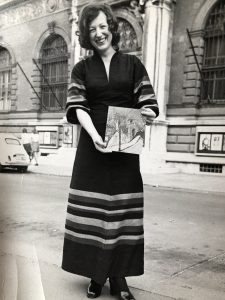 1975 / 1980 / 1982 / 1985 / 1988 / 1990 Galerie Würthle, Vienna
1976 / 1978 / 1985 / 1988/ 2001 Galerie Welz, Salzburg
1985 / 1991 Galerie Figl, Linz
1980 / 1983 Galerie Seifert-Binder, Munich
1986 / 1990 / 1993/ 1996/ 2000 Galerie Vita, Bern
1986 / 1990 / 1994 / 2000/ 2002 Galerie H. Schneider, Horgen, Switzerland
1991 Kulturhaus Graz: Friederike Mayröcker / Linde Waber Umbra. Der Schatten, original manuscript – original graphics – the finished book
1995 Austrian National Library Buchbilder('Book Pictures')
1995 / 1997/ 1999 / 2002 / 2003 Galerie Contact, Vienna
1997 Belvedere Austrian Gallery, Atelier im Augarten Waber Vegetativ, Lower Austrian Documentation Centre in St. Pölten (with Hil de Gard and Bodo Hell).
2003 Genius Loci, Künstlerhaus, Vienna
2005 Gallery Syun, Nagoya
2006 Austrian Embassy, Tokyo
2007 Gallery Mel Contemporary, Vienna
2007 Chengdu Art Museum, ChengduChina, Studio Drawings and Daily Drawings
2008 Gallery Christine Park, Paris
2010 Waber RETROSPEKTIV und Weggefährten, Leopold Museum, Vienna
2014 Exhibition of Daily Drawings about Friederike Mayröcker in Leopold Museum, Atrium, Vienna.
2015 Irma Stern Museum , Capetown, Southafrica
2017 Arthothek N.Ö. Krems
2018 Contemporary Art Austria, Studio Drawings, Comsats Art Gallery, Islamabad
2018 European Parliament, Brussels, Art at EP
2019 Gallery Amart, Vienna: "Zeit im Bild"
…Decades of Relationship with Architect Gunter Breckner

BOOKS
Vorstadt, 1973, self-published, woodcuts L.W., texts by Rainer Pichler, foreword by Liesl Ujvary.
Waber Buch, 1985, Verlag Galerie Würthle, texts by Walter Koschatzky, Hans Dichand, Liesl Ujvary, Wolfgang Hilger, Angelika Bäumer, Helga Köcher, György Sebestyen, Herwarth Röttgen, Otto Breicha, Kristian Sotriffer
Atelier, 1987, Regional Museum of Lower Austria, Blau-Gelbe Galerie of the Lower Austrian Department of Culture, new series No. 92, foreword Helga Köcher. Telephone interviews with 68 artists.
Umbra. Der Schatten. Zu Arbeiten von Linde Waber, 1989, Hora Verlag, text by F. Mayröcker.
Ende, 1991, Elfriede Jelinek, poems, Linde Waber woodcuts, David-Presse, Vienna.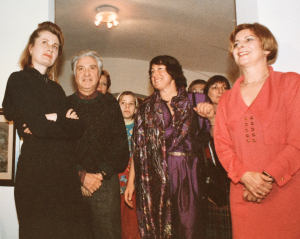 Gaussplatz 11, text by Lotte Ingrisch, photos by Bodo Hell, woodcuts by Linde Waber.
Waber Vegetativ, oil paintings and daily drawings 1987-1997, Gerbert Frodl, Kristian Sotriffer, Friederike Mayröcker, Bodo Hell, Regine Schmidt, Österreichische Galerie.
Schreibgehäuse, original book with contributions from Friederike Mayröcker, Ernst Jandl, Bodo Hell, Linde Waber, Austrian National Library, 1995
An der Wien, woodcuts, Line Waber, texts and photographs by Bodo Hell, afterword by Angelika Bäumer, book design by Hil de Gard, Vienna, 1997.
Ma(h)lzeit together with Bodo Hell and Hil de Gard; Edition Thurnhof, Horn 1997
Das Gericht – ein Gedicht, together with Bodo Hell and Hil de Gard, Edition Splitter, Vienna 2000
Genius Loci, Atelierzeichnungen Hausbesuche 1982 – 2003; Mandelbaum Verlag, Vienna, 2003
fisch poem, Mandelbaum Verlag, Vienna, 2004
koch au vin, Mandelbaum Verlag, Vienna, 2007
Linde tröstet Schubert, edited by Renald Deppe. Bodo Hell, Brigitta Höpler, Mandelbaum Verlag, Vienna, 2010
Im Flug der Tage,Bibliophile Artist Book, Linde Waber, Bodo Hell, Künsterfabrikat Nr. 1, Mandelbaum-Verlag, 2013
Die Geburt der Neugier, Commedia dell´Arte, Markus Kupferblum, Illustrations Linde Waber, facultas Verlag, 2013
Mein Waldviertel,pictures of Linde Waber, edited by Wolfgang Kühn, Literaturedition Niederösterreich, 2014
Gleich möchte ich mich auf deinem Bild niederlassen, Daily drawings and texts 1983-2014, Friederike Mayröcker and Linde Waber, Editors Christel und Matthias Fallenstein, Künsterfabrikat Nr. 3, Mandelbaum-Verlag, 2014
ONLINE
https://www.facebook.com/linde.waber